AT Special Projects and Grants
Assistive Technology Academy
The AT Academy© is a multi-session, interactive and technology-based training program designed to build foundational competencies in order to deliver Assistive Technology (AT) services to individuals with an array of disabilities and age groups.
Content covered will include: AT consideration and evaluation, including the Fundamental Assessment Process (FAP), access to AT (computer, switches, etc.), mobile devices as AT, Augmentative and Alternative Communication (AAC), AT for literacy, AT for community living, future trends in AT, and AT trials. The AT Academy© is relevant for all disability age groups, but will focus on providing effective assistive technology solutions for adults with developmental disabilities.
The Academy is offered at no charge, but registration is required.
Who Should Attend?
The Academy is designed for county boards of developmental disabilities.
---
Training Dates
September 10, October 5, and December 3 at 3:00pm - 4:00pm
Participate in three one-hour synchronous training sessions designed to build foundational knowledge in AT while promoting a just-in-time learning environment.
---
September 17 & 29, October 21, November 5, 17, & 24
Participate in virtual coaching sessions with the presenter throughout the duration of the training.
---
November 2, 9, & 17
Receive access to asynchronous learning modules accompanied by individual application exercises to be completed by each participant for each module.
---
Throughout the training, participants will have access to an interactive web portal that houses all the training materials and other resources, along with a toolkit of video clips, tutorials, checklists, and various other items to promote a culture of technology inclusion for individuals with disabilities.
The Academy concludes with a capstone project, which provides participants the opportunity to synthesize the information provided throughout the Academy and develop a plan to apply this information within their unique situation. Mentoring support will be provided.
---
Presenter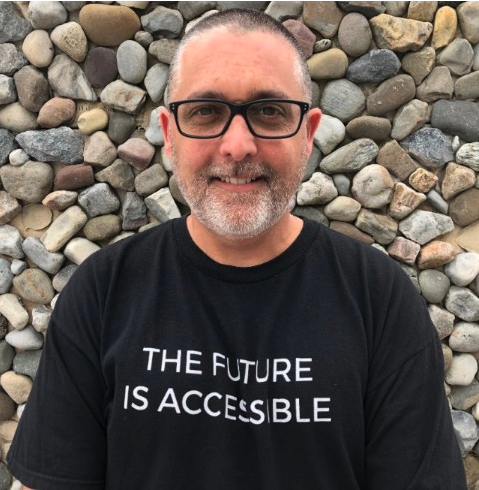 Mike Marotta, ATP
Mike is the owner of Inclusive Technology Solutions, LLC and has been in the field of Assistive Technology for 30 years. His experience revolves around a vast array of accommodations for persons with disabilities and their family/support members. Mike believes that networking and information sharing are essential for successful evaluation, consideration, implementation, and application of assistive technology.
---
Space is Limited:
The AT Academy is available at no charge, however, registration is required. Space is limited to the first 50 registrants, so register early to reserve your spot.
Register online via OCALI Pass
---
Approved by the Ohio Department of Developmental Disabilities (DODD) for Continuing Professional Development Units
Funded by The Ohio Developmental Disabilities Council under the Developmental Disabilities Assistance and Bill of Rights Act.