APH | LEGO Braille Bricks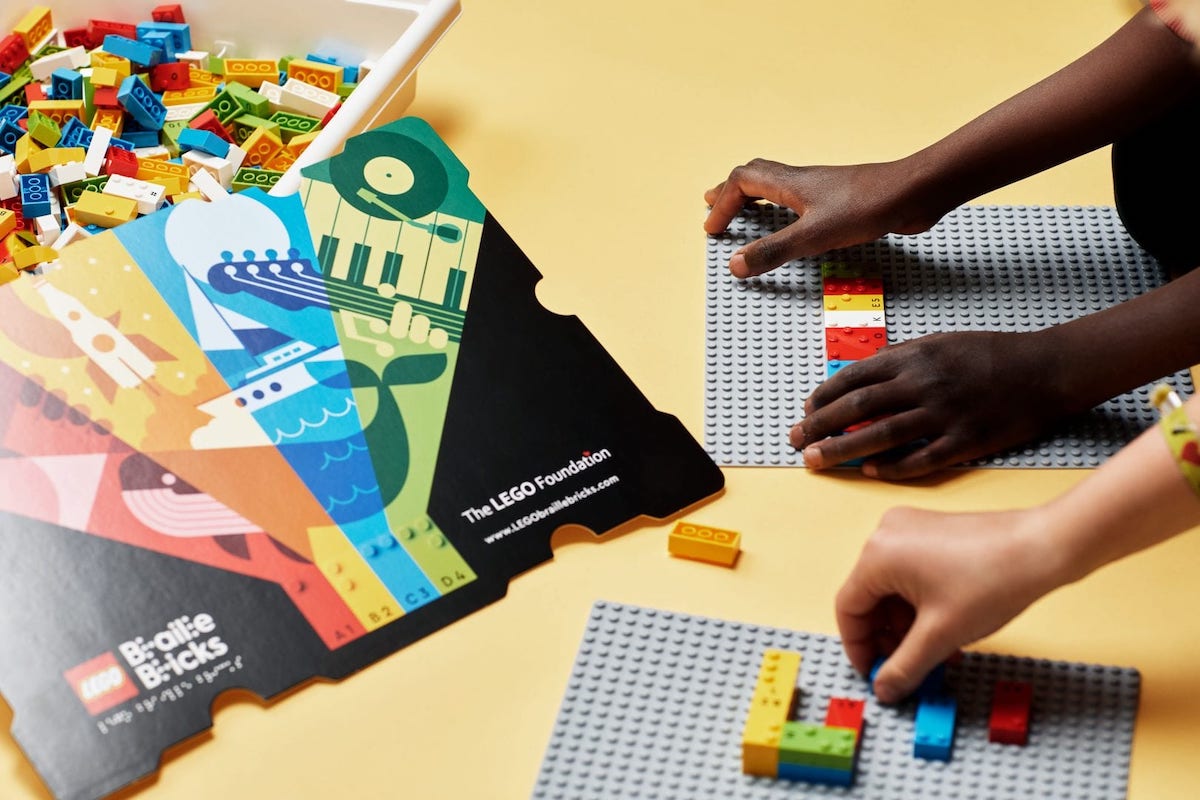 They're here! APH is excited to be an official partner, responsible for distributing LEGO®Braille Bricks to students in the United States.
You won't want to miss out on the new LEGO Braille Bricks! The bright colored bricks, molded with studs that correspond to numbers and letters in the braille alphabet, allow students who are blind, and sighted to play and learn together. LEGO Braille Bricks were developed by the LEGO Foundation and will be distributed to children internationally through American Printing House for the Blind, Inc.
Visit APH's website to learn more about the bricks, requirements for ordering, and about required training.
Do you meet the requirements and want to order? This is done through the AT&AEM Center's materials request portal. In addition to submitting an order request, you will need to fill out the LEGO assurance form and return it to the AT&AEM Center.
If you need assistance with this, please contact Jennifer Govender (jennifer_govender@ocali.org).
Behind the Bricks
Knowing that braille is an essential tool for young people with visual impairments, the LEGO Foundation designed the bricks to do the following:
Follow a pedagogical approach. LEGO Braille Bricks work to the proven pedagogical concept of powerful learning through play – making them a valuable tool for teachers and students.
Boost confidence. By inspiring kids who are blind or visually impaired early in life, in such a positive and enjoyable way, we are helping develop their independence and communication skills from an early age.
Help develop creative, engaged lifelong learners. Learning braille is crucial for blind or visually impaired children as it allows them to develop a variety of life skills, ensuring they experience intellectual freedom, independence and equal access to education and work.
Support innovative teaching. LEGO Braille Bricks pave the way for increased confidence, communication, creativity and problem-solving, all key skills required to support life goals.
The LEGO Braille Bricks are being offered FREE of charge by the LEGO Foundation, and were designed to be used with an educational curriculum that is led by a teacher. Because of this, LEGO Braille Bricks will be distributed directly to EOTs who will work to distribute them to teachers and classrooms. The hope is to ensure many years of learning, by having them passed down from student-to-student.
Learn More
Visit the APH Hive to learn more about the LEGO Braille Bricks and to complete the required training; the LEGO Braille Bricks Play-based Teaching Method course. You'll get a look at how the bricks work, how to use them with students, and even LEGO's learning through play philosophy. 
Want to look at the educational lessons? Visit legobraillebricks.com.